Structure chart for surgical microscope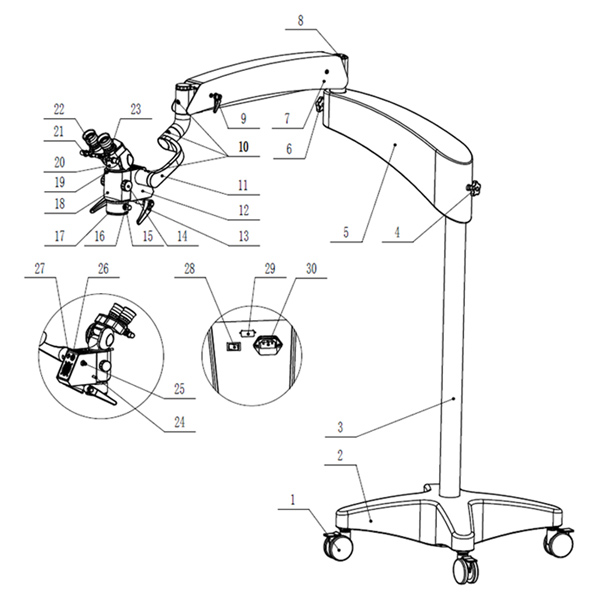 [1] Wheel: Move Microscope.
[2] Mobile Base: Support Microscope.
[3] Column
[4] Lock knob of Cross Arm: Lock the cross arm from circumferential rotation.
[5] Cross Arm: Power cable inside.
[6] Lock knob of Swing Arm: Lock the Swing arm from circumferential rotation.
[7] Swing Arm: Keep the balance of microscope and support up and down movement.
[8] Balance knob: Maintain the balance of the microscope with accessories mounted.
[9] Position lock knob: Lock swing arm from up and down movement.
[10] Damping screw
[11] Microscope Arm: Support microscope body.
[12] Illuminator: Provide lighting.
[13] Handle
[14] Magnification Knob: Adjust the microscope magnification.
[15] Objective lens
[16] Lens focusing knob: Fine focus.
[17] Splash cover
[18] Microscope body
[19] Lock screw: Fix Binoculars.
[20] Binoculars
[21] Pupil distance adjustment knob: Adjusting the pupil distance of binoculars.
[22] Eyepieces
[23] Diopter adjustment ring: Adjust the Eyepieces visibility.
[24] Filter rod: Apply the filter or not.
[25] Brightness Adjusting Knob: Adjust the brightness of the light.
[26] Light socket: Supply power to illuminator.
[27] CCD socket: Supply power to CCD or other imaging system.
[28] Power Switch
[29] HDMI Socket: Export HDMI images.
[30] Power Socket: Supply power for the whole microscope.